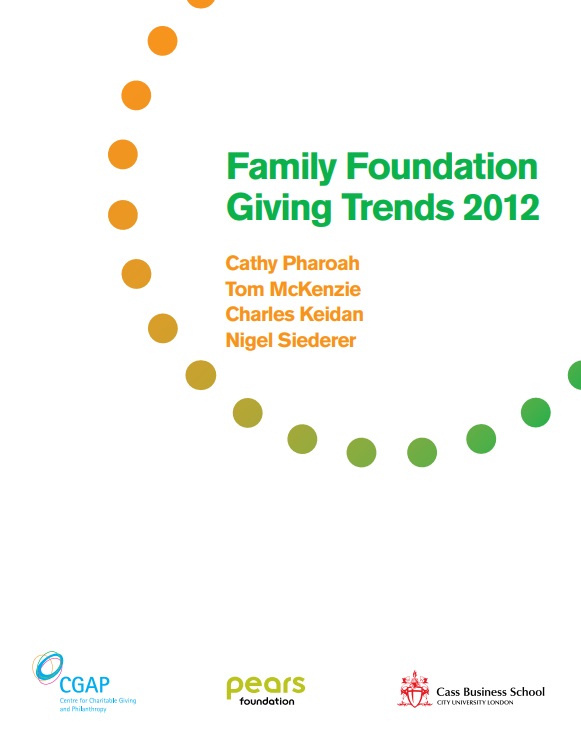 Adicionar aos "Meus Favoritos"
Download · 1 MB
620 downloads · 862 visualizações
Family Foundation Giving Trends 2012
Family Foundation Giving Trends 2012 is the fifth in a series of reports that annually updates the giving of the largest 100 family foundations in the UK, tracking trends and comparing them with their US counterparts. Giving through family foundations represents around 8% of all private giving in the UK.
This year's report is a special edition aimed at providing a more rounded picture of family foundation philanthropy. The regular updating of the annual league tables of giving is complemented by new research on the causes supported, the influences on decision-making in an uncertain environment, and family foundations' outlook for the future.
The research was carried out through extracting financial data from annual reports and websites on annual spending and the distribution of grants by cause, and an online survey of decision-making amongst the largest family foundations (40 responses, 45% response rate).
For this research, UK and US family foundations are defined as independent registered charitable trusts funded originally by family wealth, whether or not the founding family is still represented on the governing board.
Key financial results 2010/11
The total giving of the largest 100 UK family foundations was £1.33 billion in 2010/11.
The results presented a mixed picture of growth: while there was an overall real fall of 1.8% in giving, there was a substantial 6.2% real rise if the results of the giant Wellcome Trust are excluded from the group.
The rise in giving bucked the trend for the value of family foundations' assets: these were worth £29.7 billion in 2010/11, representing a real annual fall of 3.5%.
Although there were some signs of growth this year, the giving of the largest family foundations has not yet returned to pre-recession levels.
Asset value in 2010/11 was still a real 14% lower than in 2006/07.
Organizações responsáveis
Direitos autorais
Copyright 2012 ESRC Research Centre for Charitable Giving and Philanthropy, Cass Business School.