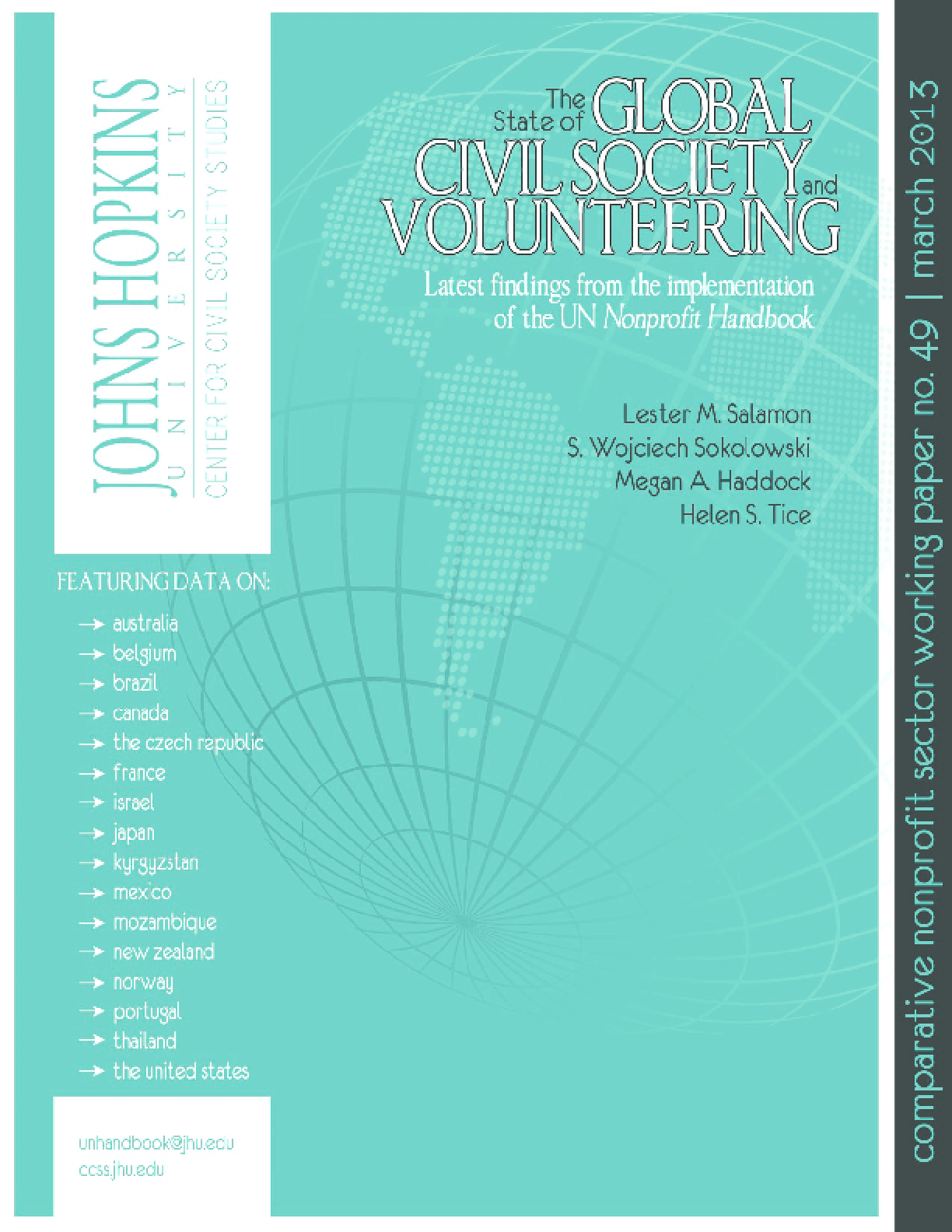 Adicionar aos "Meus Favoritos"
Download · 3 MB
736 downloads · 1022 visualizações
The State of Global Civil Society and Volunteering: Latest Findings from the Implementation of the UN Nonprofit Handbook
A "global associational revolution," a major upsurge of organized, private, voluntary and nonprofit activity, has been under way around the world for the past thirty years or more. Despite the scale and scope of this development, however, official data to portray it have long been lacking. This report takes an important step toward remedying this situation by presenting a summary of new findings from the implementation b statistical offices in sixteen countries of the United Nations "Handbook on Nonprofit Institutions in the System of National Accounts".
Developed by the Johns Hopkins Center for Civil Society Studies in cooperation with the UN Statistics Division and an International Technical Experts Group, and issued by the U.N. in 2003, this Handbook calls on national statistical offices to produce regular "satellite accounts" on nonprofit institutions and volunteering for the first time, and provides detailed guidance on how to do so. The result is a far more complete official picture of the scope and structure of the nonprofit or civil societ sector than has ever been available in these countries.
This report presents the findings from the implementation of this UN NPI Handbook in 16 countries around the world, including data on the comparative workforce, contribution to GDP, expenditures, revenues, and distribution of activities, and an in-depth look at the advantages off the Handbook approach over the traditional SNA methods of measurement.
It is our hope that this report will help to encourage civil society and foundation leaders, volunteer promotion organizations, and statistical offices in other countries to promote the implementation of the UN NPI Handbook in their countries. The result will be to make the nonprofit and volunteer sector more visible, enhance its credibility, enable more effective partnerships between NPIs and public and private institutions, open new research opportunities for scholars, improve the clarity with which national accounts statistics portray national economies, and ultimately to improve citizen well-being.
Organizações responsáveis
Direitos autorais
Copyright 2013 Johns Hopkins Center for Civil Society Studies.