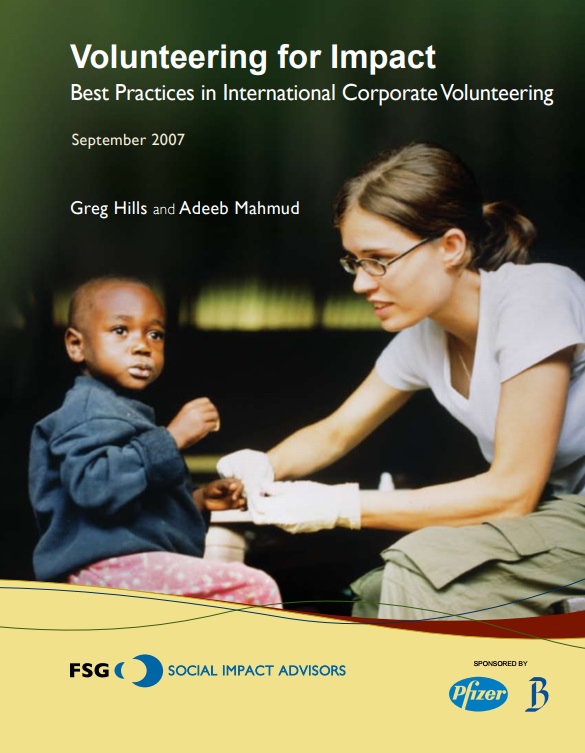 Adicionar aos "Meus Favoritos"
Download · 2 MB
702 downloads · 981 visualizações
Volunteering for Impact: Best Practices in International Corporate Volunteering
Although multinational corporations invest significant resources in international corporate volunteering (ICV), a disproportionate emphasis is often placed on the quantity of activity rather than potential impact. Multinational corporations are slowly moving from traditional measures, like counting volunteers and hours of service, to adopting more strategic measures built around increasing business or social impacts. Companies are evolving ICV programs to strategic partnerships that focus on high-value skills transfer, capacity building and scalability, and driving outcomes beyond conventional philanthropic tools. FSG Social Impact Advisors released Volunteering for Impact, a compilation of best practices in international corporate volunteering (ICV). Sponsored by Pfizer Inc and The Brookings Institution, the study examines ICV within two principal models: local service, in which employees based in countries outside headquarters volunteer in their local communities; and cross-border service, in which employees travel abroad to volunteer. After numerous interviews and the analysis of ICV programs at 14 multinational corporations, FSG detailed current programs and made recommendations to guide corporate philanthropy executives and ICV program managers as they build high impact volunteering programs.
Organizações responsáveis
Direitos autorais
Copyright 2007 FSG Social Impact Advisors. All rights reserved.