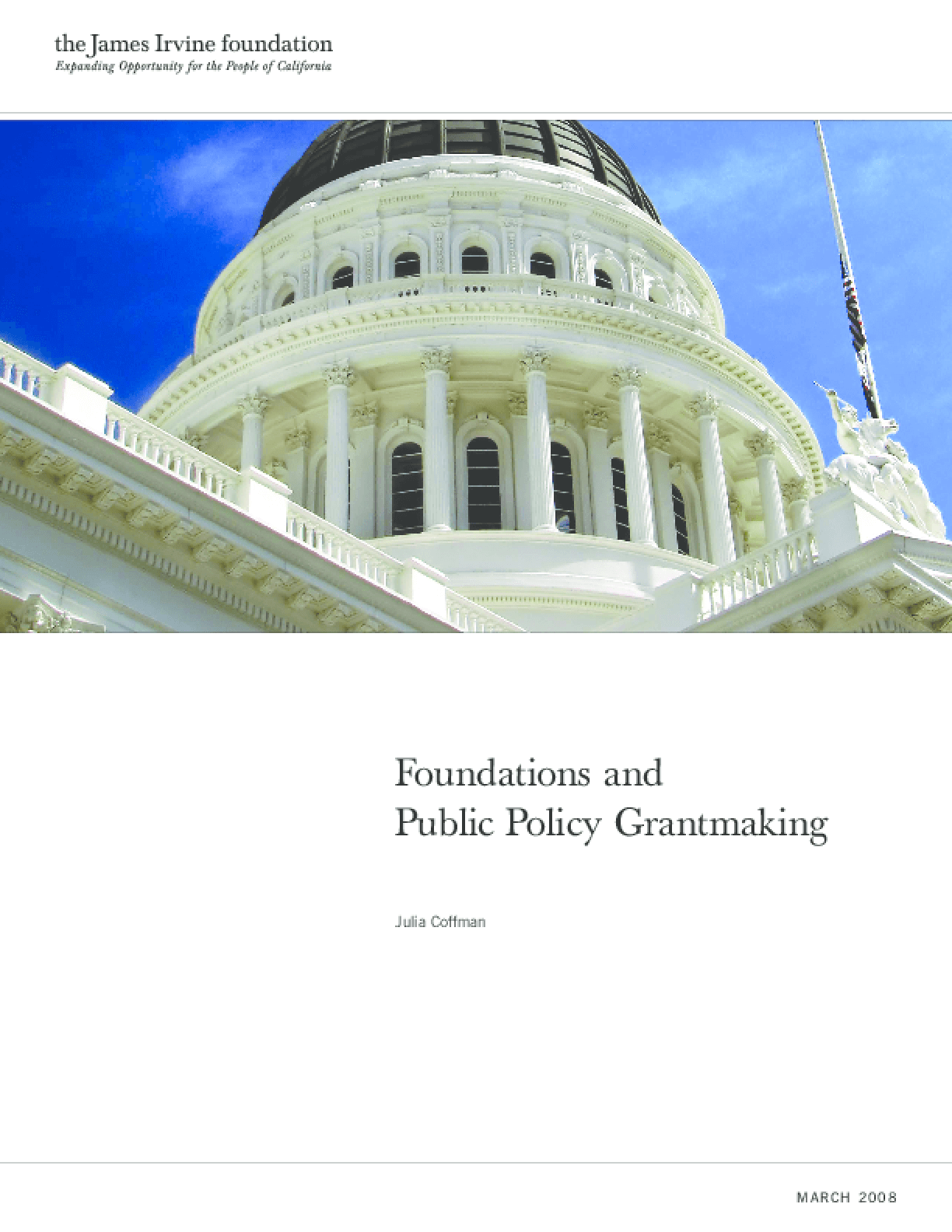 Adicionar aos "Meus Favoritos"
Download · 577 KB
765 downloads · 1161 visualizações
Foundations and Public Policy Grantmaking
Foundations trying to better leverage their influence and improve their impact increasingly are being urged to embrace advocacy and public policy grantmaking as a way to substantially enhance their results and advance their missions. In fact, public policy grantmaking has been described as "one of the most powerful tools available to foundations for creating real change."1 The argument for public policy grantmaking is clear. Achieving large-scale and lasting results for individuals or communities — a goal linked to many foundation missions — typically cannot be accomplished with private resources alone. Often, it requires public investments and government directives. While a foundation might identify effective interventions, for example, and fund their implementation in several communities, larger and more sustainable funding sources are needed to scale up those interventions and broaden their impacts. Securing such commitments requires changes in public policies. This reasoning is persuasive. Yet to date, relatively few foundations have incorporated public policy into their grantmaking agendas. Although there is little doubt that the number of foundations moving in this direction has increased in recent years, foundations that make policy grants are still considered innovators among their peers. This paper is designed to inform how The James Irvine Foundation might frame, focus, and advance efforts to achieve policy reforms in its primary program areas. It is organized around a framework developed to support the Foundation's thinking about its grantmaking options.
Organizações responsáveis
Direitos autorais
Copyright 2008 The James Irvine Foundation. This Paper May Be Reprinted Or Photocopied For Free Distribution, With Attribution To The James Irvine Foundation.